A dive at Balito Deep, just in front of Anfi, is only for advanced divers. With a depth of 23 meters you must prepare to watch your no-deco time.
Some divers are looking for a somewhat deeper dive without looking for the extreme depths. The rocky reef of Balito Deep, with a depths of around 23m, is ideal to start exploring the Canarian underwater beyond the Open Water dive level. The circular reef, interrupted by large sandy patched, borders to an old, unused drain pipe.
In the sandy patches you will find different types of rays and perhaps an angel shark. On the rocks, large groups of grunts circle around, often chased by groups of baracudas. To complete the discovery you find octopus, moray eels and all types of crabs in and under the rocks.
Somethims you get lucky and a passing turtle comes to say hello.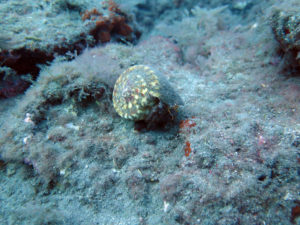 Location and planning
We go to Balito Deep typically in the morning, it is only a 5 minutes boatride. The site is located at about 0.6Nm (1.1 Km) from Scuba Sur.
Because of the depth, we dive the site only during the morning dives as part of the dual dives. The Balito Deep site is typically combined with a dive at the Meteor or Arguineguin Reef.