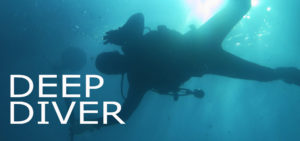 The Deep Diver course offers you the possibility to dive deep (max depth 40 metres – 130 feet), to see things that others can only dream about.
Duration:

1-2 Days

Prerequisites:

Min. Age: 15
Certification: Open Water Diver + Adventure Deep Dive

About the course:

With this course you will experience a breath taking dive that will take you deeper than 18 metres / 60 feet. Down there everything is different and it calls for extra training. You can do it here!
---