ITDA – 1-2-Dive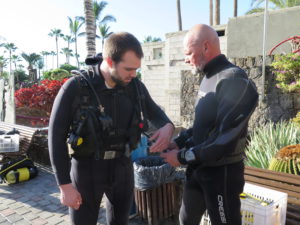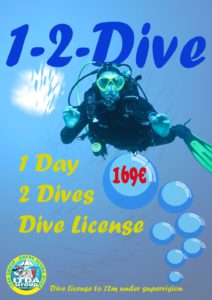 This unique introduction program is designed especially for those people who want to experience the joy of diving, without the commitment of completing a full training program or for those who just want to safely try scuba diving. This program is unique in the diving industry for offering a safe, professional training to a certified standard for entry level scuba and for a minimum time and great value for money…
1-2-Dive takes one day and gives you an Entry Level Scuba Diver Certification. The program includes:
30 to 45 minutes of theory
1 Session that includes training in shallow water followed by an experience dive followed by a dive from the boat
A diving certification that allows you to dive up to 12m under supervision of a professional guide
the certification is valid for 2 years
The program is designed to offer anyone with no previous experience in Scuba Diving a Safe, fun, practical, Training & Certification Program to learn the basic skills required to safely enjoy exploring the fantastic underwater world that is only open to those who venture below the surface of the world's Seas and Oceans. The minimum age for the program is 12 years.
After the program, you can either do extra experience dives or immediately upgrade to ITDA Scuba Open Water Diver.
---